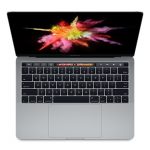 The new MacbookPro models have arrived and man, was that a yawn?
Ok, for most this might be moot…but here it goes:
You need to buy it with all the RAM you will ever think you will need because you can't upgrade after.
You need to buy it with the maximum storage you need, that is, it should be greater than what you are replacing it with.
No more magsafe power connector. It can be any Tbolt-3 port. On the 15″ model, there are 4.
And now, the biggest cost … I built a 1TB, loaded 15″ Touch model. It costs $3499. And that is without Applecare. Oh, must…have…Applecare if you are a "me firsty".
Hey, with the 15″ MBPTB, it can have 512GB, 1TB or even 2TB of storage! Ouch, that 2TB is $1200 option over the 512GB. 4GB of VideoRam is $100 more (you will need that to drive a 5K LG display…ooooooi!) Maximum SSD storage on the 13″ model is 1TB.
USB-C or Thunderbolt 3 as they call it is rather interesting. The speed, video, adaptors… more to come!